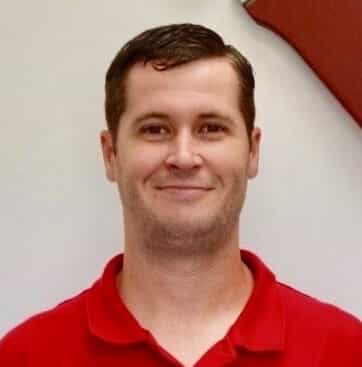 Five minutes into a conversation with Isley Plumbing's Jeremy Worland and you understand he's a go-getter and someone committed to doing a good job. Less than four years ago, Worland's family financial situation changed, and he went from a stay-at-home dad to a new career search. His father had always said to "find a trade" and when he saw the ad for a plumber, he thought to himself – this is a job that is needed in every business and every household every day.
"I applied for the apprentice plumbing job with Isley and they gave me the opportunity and it has changed my life," says Worland. "The combination of learning about the industry in a classroom setting over the past three plus years alongside training with a certified plumber hands-on every day has really given me the chance to hone my skills. I'll be taking my certification test soon and then I'll be able to be out in an Isley truck by myself making calls to customers."
Worland says he has learned so much from the 7600 hours of hands-on training an Indiana issued certification requires. Not every day and every job will be the same, shares Worland, and watching and learning from a seasoned plumber with over 35 years in the field has its rewards and value.
"Everything that I've learned, I use every day," says Worland. "Isley Plumbing paid for my schooling and then put in place the right mentoring system for me to succeed."
Worland has been impressed with the customers he encounters who have been calling Isley Plumbing for decades because they always get great service, and their plumbers are knowledgeable and communicate well.
"Isley really has state-of-the-art technology," says Worland. "They communicate with the customer even before I get there telling them who is coming and identifying who I am with a photo. Once I get there, though, doing a great job and finding a solution for their problem is my job and I want to make sure I leave the job only when the customer is satisfied."
Ironically, Worland says he has had a lifelong love of water. He lived on a lake growing up and remembers his grandmother taking him to the pool at a very young age where he would swim under the water from end to end. He loved water sports and any other time he could spend around, and in, the water.
"Kind of funny that my job today centers a lot around water," laughs Worland. "Now, I know that water isn't something you can always control but it has taken something I've loved and honed it into a career."
Family is important to Worland and he sees the importance of family to his employer too.
"Having my education paid for and working alongside all of these guys has really made an impact on my life at work and at home," says Worland. "I'm very grateful for the doors it has opened. They say you've got to do what you love, or you are just not going to be happy in life. I'd say this is pretty good proof of that saying because I'm truly happy in this job every day."