Gas Line Installation & Repair
Indianapolis Gas Line Installation and Repair
Safe, Professional Services to Get You the Fuel You Need in Northern Indianapolis and the Surrounding Areas
A lot of us like to power our appliances with convenient, cost-effective natural gas. In addition to heating and cooling systems, natural gas can fuel kitchen appliances, water heaters, and fireplaces.
However, while natural gas is safe to use in our home, there are risks associated with improperly installed or leaking gas lines. Natural gas is incredibly flammable and dangerous to inhale, and if it mixes with your home's air supply, you could be in serious danger.
At L.E. Isley & Sons, our Westfield-based gas line specialists can help you install, maintain, and repair your natural gas lines without compromising the safety of your family. Our technicians are given all the training and tools they need to safely work with natural gas lines and ensure you have access to safe, clean fuel throughout your home.
---
If you need leak detection services or gas line repair in Hamilton County, Marion County, Boone County, or anywhere in the Northern Indianapolis area, contact your local Westfield gas plumbers at L.E. Isley & Sons. Call (317) 420-4006 or contact us online today to schedule your gas line services!
---
Do You Suspect a Gas Leak in Your Home?
If you rely on natural gas to power your appliances, it is extremely important that you recognize the telltale signs of a gas leak in your home. If you suspect that gas has escaped into your air supply, contact our gas line repair team immediately. We can provide you with fast, effective repairs to keep your home safe.
How to Spot the Signs of a Possible Gas Leak:
Odd Smells –
Monitor for a rotten egg or sulfur-like odor in or around the home. This odor is added to natural gas to help alert you to a leak.
Dying Vegetation –
Look for dead or dying vegetation around gas valves, lines, or meters.
Dirt or Dust –
Look for dirt or dust blowing up from a hole in the ground. In areas of damp soil, you will see bubbles forming.
Strange Noises –
Listen for a hissing sound coming from gas appliances, lines, or valves.
Open Flames –
In severe cases, flames may be present at the sign of a gas leak.
What to Do in the Event of a Gas Leak
Even the smallest gas leak can be a serious and potentially life-threatening occurrence. In addition to explosions, the inhalation of carbon monoxide can cause death. Please don't hesitate to reach out to us even if you're unsure there's a gas leak in your home. At L.E. Isley & Sons, your safety is our number one priority.
In the Event of a Gas Leak or Potential Gas Leak:
Leave the home or area immediately. If your home is attached to another home, notify your neighbors of the potential leak as well.
Do not turn light switches, electrical devices, or cell phones on or off. Likewise, do not start your vehicle if it is located near the home.
Call your local gas company to report the leak.
Wait until help arrives to reenter the premises.
Is Natural Gas the Right Choice for Your Home?
The risks of natural gas may seem scary, but natural gas fuel is a trusted power source for countless households across the country. At L.E. Isley & Sons, we're equipped to help you install new natural gas lines that can get you safe access to reliable power.
Benefits of Natural Gas Fuel Include:
Consistent, reliable power
No need to fear blackouts
Lower costs over time
Easier maintenance
Higher property values
Less environmental impact
---
Call (317) 420-4006 today to learn more about our Northern Indianapolis natural gas services! We can inspect, repair, or replace existing lines, or help you install new ones!
---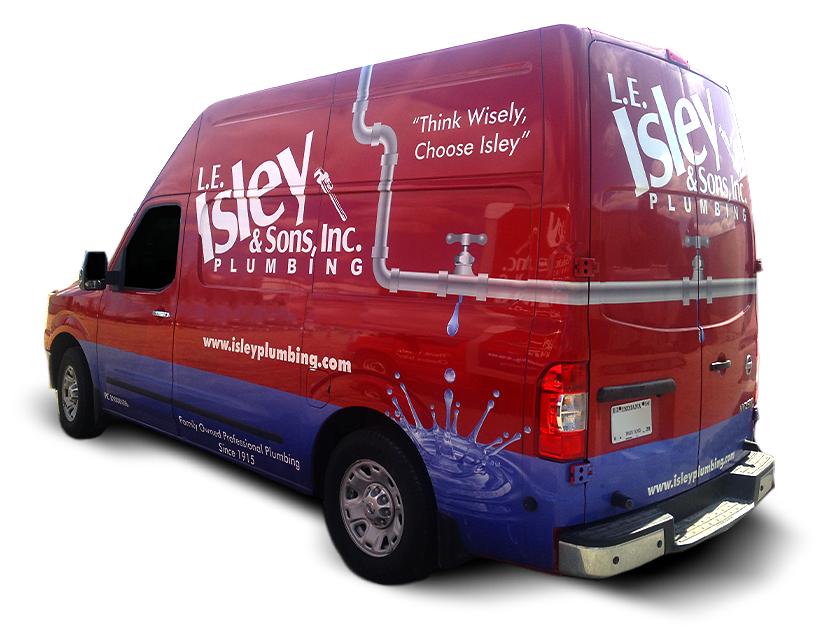 We Love Our Customers!
See What They Have to Say About Us
Plumbers You Can Trust
Our customers receive the personal attention they deserve.
Family Owned & Operated
Four generations of good old-fashioned customer service.
Flat Rate Plumbing Prices
Prices provided before service begins. No hassle, no surprises.
Guaranteed Solutions
We've been solving plumbing problems for over a century.