Garbage Disposals in Northern Indianapolis
Reliable Garbage Disposal Repair & Replacement
Your kitchen sink used to be constructed with drain strainers that caught as much food particles as possible. Any debris that fell into the drain was hopefully sloughed away by running water. This scenario changed significantly when garbage disposals became a standard in homes. L.E. Isley & Sons knows that you rely on a quality disposal to keep water running freely in your sink, but we also know that your unit can malfunction at times. Whether your garbage disposal is jammed or not turning on at all, you can count on our Westfield-based plumbers. We are professionally trained and well-equipped to handle any problems with your garbage disposals so you can use it again in no time.
---
Is your broken garbage disposal leading to clogged drains? Call (317) 420-4006 to repair or replace your unit. We serve all of Northern Indianapolis, including Boone, Hamilton, and Marion Counties.
---
Common Garbage Disposal Problems
Your disposal is both mechanical and electrical in nature so several issues can arise throughout its lifetime. Did you just flip the switch and nothing happens? For most disposals, the reset switch simply needs to be pressed. When the unit overheats, it protects itself by activating the reset button. The reset button is usually located at the base of the garbage disposal unit under the sink. Make sure that your garbage disposal is turned off when trying to reset the unit.
Loose or broken blades are another common issue. If you are encountering this problem, a professional will need to pull the disposal from the sink to thoroughly inspect the blade mechanism. If inappropriate items have entered your drain, the blades often loosen or break. At L.E. Isley & Sons, we strongly advise against attempting to do this yourself as it can be very dangerous. Just call our expert plumbers and we can bring the blades back to working order quickly so you can avoid clogged drains.
Other common problems include garbage disposals that:
Leak
Are producing a humming noise
Always get clogged
Emit foul odors
When Should You Repair vs. Replace Your Unit?
Your disposal simply needs repair if the blades are loose or broken or if your disposal is leaking. We can even sharpen them to help your disposal work like new. However, replacement is needed if the motor has broken down completely. A new motor usually costs more than an entirely new disposal, especially because labor is involved with troubleshooting and replacement. Rest assured that we'll guide you to the most cost-effective decision.
Electrical problems not caused by the reset button may be caused by a faulty electrical panel. Our Westfield garbage disposal repair technicians can troubleshoot the issue to isolate their origin. You may simply need a dedicated circuit to run the disposal if the breaker constantly trips, for example.
3 Signs You Need Garbage Disposal Repair –
Strange Sounds –
Garbage disposal units have a lot of moving parts and if you hear some odd noises coming from your unit, it could be that there is a part that isn't working properly. I could be several different problems, like a jam or a broken down part. Give us a call today if you notice strange noises coming from your garbage disposal and we'll come out and inspect it.
Constantly Resetting Your Disposal –
Pressing the reset button on your disposal can help bring your unit back to life if it's having a hard time turning on. If you are having to constantly reset your garbage disposal, it means that there is an underlying problem that should be looked at.
Leaking –
A leak can cause more water damage than you realize. If you notice that your garbage disposal is leaking, this is something you don't want to wait on. Try adjusting the drainpipe connection first and if the leak continues, give us a call today.
Easy Disposal Maintenance Tips
Maintaining your disposal is relatively simple if you follow the cardinal rule: no foreign objects in the drain. Keep out coffee grounds, bones, and other hard food items. Even potato skins and pieces of pasta can be troublesome, as these can bloat when in contact with water. Only soft items that chop up easily should enter your drain.
Below are some helpful ways to maintain your garbage disposal:
Freeze some lemon juice into ice cubes.
Toss an ice cube into the disposal and run it.
The blades will chop up the ice, while also allowing the disposal to be cleaned with a citrus smell.
You can also pour boiling water down the drain to clear the blades of any clinging food particles. However, don't run the disposal with the boiling water in it as the hot water may scald you.
---
Make sure your garbage disposal is running efficiently with timely repair or replacement from L.E. Isley & Sons. Call us or use our online form for immediate garbage disposal repair in Indianapolis.
---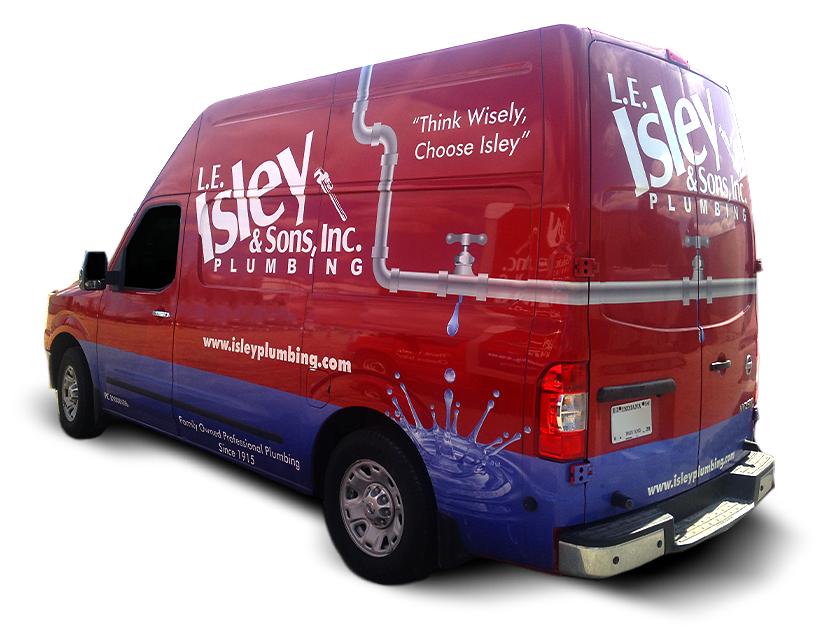 We Love Our Customers!
See What They Have to Say About Us
Plumbers You Can Trust
Our customers receive the personal attention they deserve.
Family Owned & Operated
Four generations of good old-fashioned customer service.
Flat Rate Plumbing Prices
Prices provided before service begins. No hassle, no surprises.
Guaranteed Solutions
We've been solving plumbing problems for over a century.