Drain Cleaning in Indianapolis, IN
Professional Drain Cleaning Services Throughout Westfield, IN, and Marion County
Your plumbing system is your home's lifeline. Cleaning, bathing, grooming, and cooking depend on a plumbing system that provides clean water as needed and quickly and efficiently removes waste.
At L.E. Isley & Sons, we advise customers on the best way to keep their drains running free and clear to prevent clogs and buildup. We also provide reliable drain cleaning services for stubborn clogs that require professional help. Whether you have a slow-draining sink or standing tub water, you can count on our Westfield-based plumbers to quickly, safely, and effectively clear your drains. Interested in learning more about our customer service? Make sure to check out our customer reviews page.
---
Are you in need of a drain cleaning service in Indianapolis? Call L.E. Isley & Sons today at (317) 420-4006 or contact us online to get started!
---
What Are The Signs You Need A Drain Cleaning?
You don't often think of your drains on a day-to-day basis. But, when a toilet overflows and your bathroom starts to flood, you'll have wished that you had been looking for the warning signs. Using over-the-counter drain cleaners can do more harm than good for your drains. If you notice that your drain is very slowly draining, it may be time to contact our expert drain cleaning team in Indianapolis. We have provided you with three signs to look out for when it comes to knowing when to clean your drains.
Slow Drain – While it could be a myriad of different things that are causing the drain to flow a lot slower, common culprits would be hair, grease, or even soap scum. Don't think your drain will get better by leaving it alone; contact our experts today.
Strange Smells – If you notice mysterious smells coming from your plumbing fixtures in your home, this is a pretty good sign that it's time to get your drains cleaned. Those smells could be anything from waste sitting in the drains or even sewer gases. This should be dealt with as soon as possible.
Gurgling Noises – Strange noises don't always mean something is wrong. But, if you notice a gurgling noise coming from your drain or toilet, it's time to take action and call us today to inspect the odd sounds.
Tips to Prevent Drain Cleaning
Weekly flushing of drains with hot water can help remove small amounts of soap and body oils that can grow into annoying drain clogs. Use chemical drain cleaners sparingly to prevent deterioration of pipes – a simple mixture of baking soda and water can help remove the normal buildup of grease and soap scum from bathroom and kitchen drains.
To prevent more tough clogs, follow these simple recommendations from our plumbing experts. In over 100 years of service, we've learned something about what causes clogs!
Be mindful of what goes into your drains: and consider using a screen or drain grate over the drain opening to prevent items from falling in. Food or small objects that go down your drains can become lodged in the pipe and trap grease and debris, controlling normal water flow.
Avoid spilling coffee grounds, pasta, rice, celery, or other starchy or fibrous foods down your garbage disposal.
Pour your used cooking grease into an empty coffee can or other containers, then freeze the container and throw it away instead of dumping it down the drain: This can prevent grease buildup in drain systems, leading to significant clogs.
Place screens over the bathroom sink drain and tub drain to catch excess hair and soap film.
Provide containers near the toilet to prevent disposing of sanitary products in the toilet drain system: Flushing these products can cause them to get caught within your pipes and cause hard-to-clear clogs.
Consider a lint trap for your washing machine's drain line: All of the dirt from your clothes has to go somewhere, and our Northern Indianapolis drain cleaning experts always find it clogging your water line.
If you have a kitchen sink without a garbage disposal, make sure you put a drain stopper there to ensure you don't get anything too big in your pipes.
Throw some ice in your garbage disposal to clean out debris and foul odors.
Start a compost bin: Not only will you save your garbage disposal, but you'll reduce waste and be able to use the recycled matter in your garden!
What Are The Benefits Of Professional Drain Cleaning?
Drain cleaning can be incredibly helpful for protecting both your drainpipes and your property from damage. A qualified drain cleaning service offers the expertise to properly inspect, clear, and prevent any drain blockages and clogs that could be troublesome. Not only does drain cleaning give you peace of mind that your drainpipes will remain in top condition, but here are some other benefits to consider:
Decreased chance of expensive and messy plumbing repairs
Cleared pipes improve overall water-flow
Improved drain odor
Fewer blockages or clogs caused by residue build-up or grease
Removal of tree roots that may have punctured drain pipes; improved sanitation
Prevention of pipe corrosion through the removal of scum, rust, or mineral deposits
Reduced risk of water damage
Flooding or mold caused by improper drainage due to clogged pipes
Access to the latest drain cleaning technologies will increase efficiency and safety.
With so many benefits provided by expert drain cleaning services, we'd recommend addressing any potential issues with your drain system sooner rather than later! Contact our drain cleaning experts throughout Indianapolis today to learn more about the benefits of professional drain cleaning, or to schedule a drain inspection.
Contact Our Drain Cleaning Technicians In Indianapolis Today
Plumbing service professionals recommend thoroughly inspecting and cleaning your drains every two to three years to ensure that your system is running at peak efficiency. If you have a large family that gives your plumbing and drain system heavy use, you may want to schedule an annual visit from our Indianapolis drain cleaning experts to prevent clogs from developing.
At L.E. Isley & Sons, we can provide a thorough assessment of your drain cleaning needs and professional service to ensure that your plumbing system is operating at its highest level. Our expert team is committed to eliminating any clog we encounter, no matter the size, with trained technicians and superior service.
Related Reading
---
Contact us online to schedule an appointment, or call L.E. Isley & Sons, Inc. at (317) 420-4006 today!
---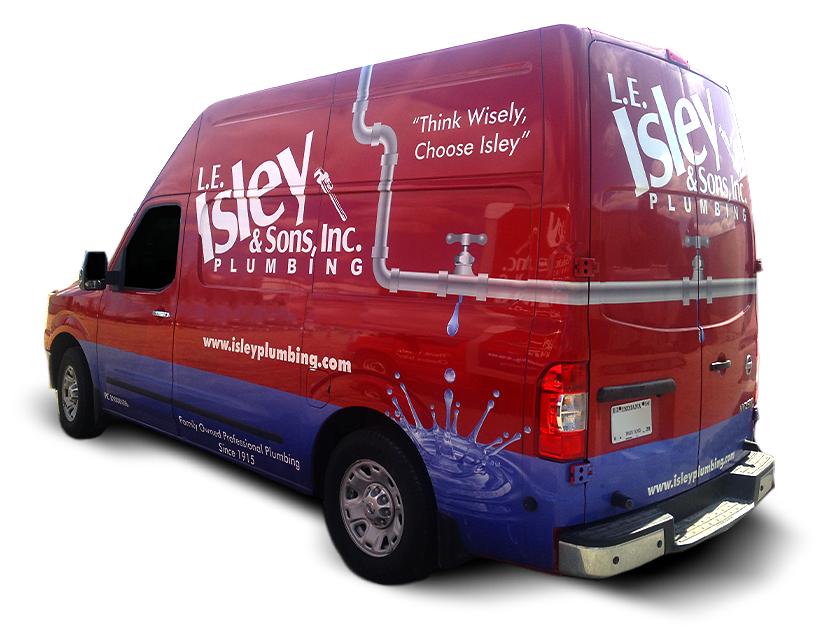 We Love Our Customers!
See What They Have to Say About Us
Plumbers You Can Trust
Our customers receive the personal attention they deserve.
Family Owned & Operated
Four generations of good old-fashioned customer service.
Flat Rate Plumbing Prices
Prices provided before service begins. No hassle, no surprises.
Guaranteed Solutions
We've been solving plumbing problems for over a century.