Noblesville Plumbing Services
Let L.E. Isley & Sons Help with All Your Plumbing Issues
Among all the issues that can happen in a home, the one that most homeowners least pay attention to are those related to plumbing. With that, it is important to know that the most ignored issues are the ones that can cause the most damage. Plumbing issues can lead to an array of greater problems, such as water damage, broken drainage systems, and not to mention stressing out.
---
Plumbing problems shouldn't be put on the backburner. Call L.E. Isley & Sons at (317) 420-4006 to schedule an appointment for reliable plumbing services in Noblesville and the surrounding areas.
---
Benefits of Our Services
At L.E. Isley & Sons, our Noblesville plumbing technicians strive to make things easier for you. As your trusted plumbers for over 100 years, we're here to solve all your plumbing problems, from drain cleaning to burst pipe repair and other plumbing fixture services. In addition to providing you high-quality workmanship, we're also dedicated to ensuring exceptional customer care.
Some benefits you can expect when you call our team, include:
Guaranteed, upfront pricing– Stop wondering if you can afford the service you need. We will give you an upfront rate before starting any job and it's up to you whether to push through with the service or not.
Free consultation on large jobs– Let us take some of the stress of a major plumbing project. Our highly skilled plumbers provide complimentary consultations so you can get started on the plumbing services you need.
Clean workers– We treat your property as if it's our own, so you can expect us to treat it with the utmost respect by wearing shoe covers throughout the entire service and cleaning up after.
Our other services include backflow testing and certification, water heater services, water treatment system installation, fixture plumbing, bathroom remodeling, and more. For a full list of our plumbing services in Noblesville, continue browsing our website or look it up here.
How Drain Problems Can Impact Your Home
Drain problems are the worst type of inconvenience to have in your home. They can have several effects on the home including preventing or slowing the flow of water, creating low water pressure or causing a burst pipe.
When you begin to experience problems with your drain, it could be from one of these causes:
Foreign objects that find their way into the drains
Heavy rains or storms
Incorrect pipe installation
Water flow issues
Each of these causes can lead to different issues, all of which can have repercussions on your home's drainage system and your daily routine if not taken care of by a professional right away.
Signs that you should look out for include:
Poor water pressure
Backflow
Gurgling from drains
Water flow in your yard
Leaks
How Do Burst Pipes Occur?
Burst pipes have a number of causes, but the most common ones are frozen pipes, which typically occur during winter.
When temperatures reach low levels, pipes will freeze and burst in one of these scenarios:
When they are poorly insulated
They are exposed to icy draughts
Your pipe is located in an area of the home that does not receive enough heating
The bursting occurs when the water in the pipe freezes and then expands, an expansion of which causes the pipe to then break apart. On the other hand, heat is another cause of burst pipes. When temperatures reach high levels, old pipes tend to shift. Unable to handle the movement and the flow of water, they then burst.
Replacing Your Bathroom Fixtures
The main reason you should replace your faucet and other bathroom fixtures is that it helps maintain the quality of your water flow and it also ensures that your faucet is working as efficiently as possible. These days, there are also alternative options to the current faucet you are using. These alternative faucets are water-efficient, meaning that you save water and money when you use them.
In addition to saving energy and maintaining efficiency, you should consider replacing your other bathroom fixtures for aesthetic reasons. You can enjoy the benefits of a new and improved bathroom, helping you feel more relaxed and happy with your home.
---
At L.E. Isley & Sons, we believe in providing our clients with excellent professional services. Give us a call at (317) 420-4006 today. Our experienced technicians can come out and provide you with the top-quality service you deserve.
---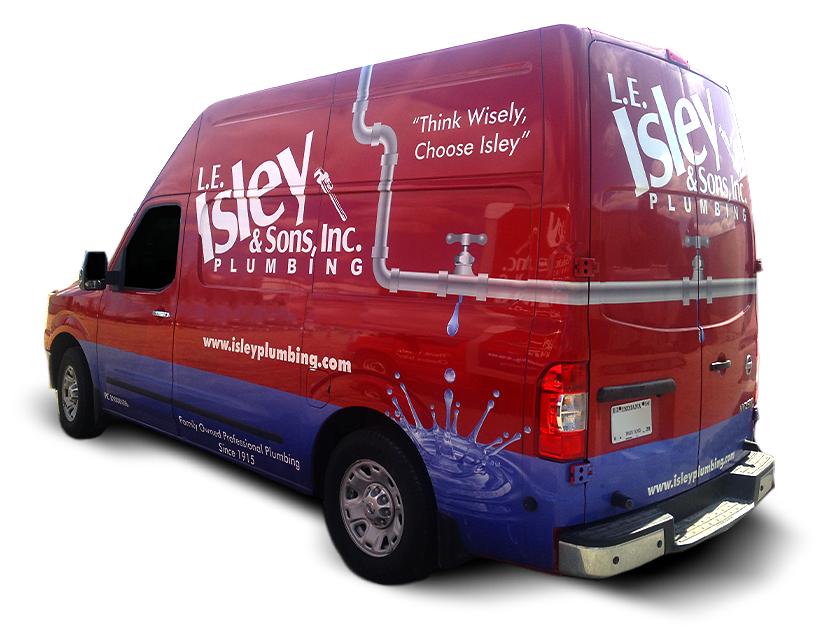 We Love Our Customers!
See What They Have to Say About Us
Plumbers You Can Trust
Our customers receive the personal attention they deserve.
Family Owned & Operated
Four generations of good old-fashioned customer service.
Flat Rate Plumbing Prices
Prices provided before service begins. No hassle, no surprises.
Guaranteed Solutions
We've been solving plumbing problems for over a century.