March is Women's History Month. It celebrates the achievements of women throughout history, business and equal rights and their ability to move our world forward in a positive way. For Isley Plumbing, we are celebrating Cherie Isley whose achievements over 25 years — and over three of the four generations of ownership — have helped bring Isley Plumbing to where it is today.  
Part 1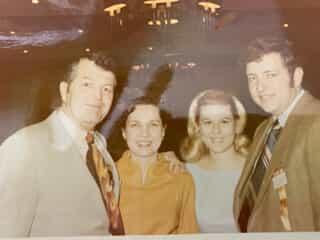 You might say when Cherie Swails married Larry Isley she also "married" Isley Plumbing. Larry worked for his father, Paul, and his uncle Bill after returning from college and active duty in the service. Bill and Paul were the second generation of Isleys to own the business. One day in 1982, Cherie received a call to see if she could help answer the phones while the usual gal took some time off. One day turned into two and two turned
into four and she soon found herself a permanent fixture at Isley's.  
It didn't take long for Cherie to realize that many in the plumbing industry were moving on and upgrading technology. She knew that Isley's needed
to rethink how they were conducting business and find a way to bring the business side of things into the future. 
"Support for education has always been a big part of Isley's contribution to the plumbing industry," says Cherie. "For 23 years, I was secretary for Mechanical Skills, Inc. as well as working for Isleys. The school is a four-year plumbing apprenticeship school dedicated to teaching and qualifying apprentice plumbers. Support for the school and for education for those beginning jobs in the plumbing industry was something that was important
to the company and always has been."  
When the school said they were upgrading their computer system, I took the opportunity to suggest Isleys also put a computer in to use which would save time with typing contracts over and over and over again. Bill and Paul agreed and away we went." 
Isley Plumbing had always been known for its excellent customer service but being able to bring the business side of things up-to-speed for customers was a huge step. When adding the ability to accept credit cards was implemented, Cherie was able to add that option for customers as well.  
"When you are doing the hands-on work every day, you are front-and-center to see how operations might be able to improve" Cherie shares.
"I wanted to make a difference at Isleys on my own merit and was always looking for ways to help the business grow and succeed. I'm grateful for that phone call that brought me to Isleys that first day. It's been a huge part of my life ever since." 
In 1995, Cherie and Larry purchased Isley Plumbing and became the third generation to run the family owned business. In part two, Cherie shares the business's move to Westfield, Indiana plays a huge role in the company's future growth.