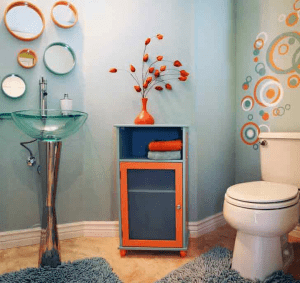 A bathroom is no longer just a place to get ready in the morning. People are designing bathrooms with the goal of relaxation in mind. Today's bathroom is similar to a personal spa in your own home.
Showers & Tubs
After years of showers being the mainstay of a typical bathroom they are now taking a back seat to bathtubs. People want to soak and relax in a freestanding tub. These are not just any bathtubs either. Homeowners are opting for basin style or replica claw foot tubs with extra room for taller customers. These eye catching bathtubs are the centerpiece of the room.
For people who still want a shower, they are opting for tile rather that fiberglass. Tile gives the bathroom a richer, earthier feel. The colors are also natural and comforting. Additionally, today's showers are also being constructed bigger than the walk-in showers of the past.
Bathroom Flooring
Bathroom flooring is also making a statement in 2015. Tile is the number one choice for bathroom flooring. The most common size is a 12 X 24 inch tile. Radiant floor heating is becoming popular for its comfort factor, especially in colder climates.
Color Scheme
The number one choice for bathroom color in 2015 is gray. In the past beige has been a safe choice for a neutral color scheme. Today customers are opting for earthy gray tones that offer a comfortable, relaxing atmosphere.
Sinks
Bathroom sinks are not just a place to wash your hands anymore. Vanities with bowls that sit on top of the surface are trending in today's bathrooms. Metal is the hardware of choice for bathroom cabinets and fixtures. Copper is the hardware color for 2015. It will be seen in lighting, sinks, on countertops and in bathroom cabinetry.
The top bathroom trends for 2015 will make any bathroom look like a place to linger. Today's bathroom is more than a place for a stool and a shower. Today's bathroom is a retreat where you can relax in a warm bath, surrounded by warm colors and soft lighting.
Call Isley Plumbing at (317) 420-4006for top-tier bathroom remodeling services in the Westfield area.