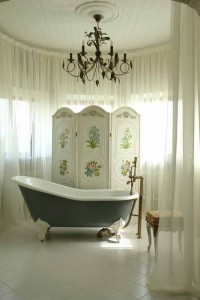 When it comes to the bathroom, every square inch counts! There is no room for extras, so it is important to consider the design and color scheme before you actually get started on your renovation. This will keep you on a budget by not purchasing items that you don't really want.
Put down on paper a plan and the colors you want to highlight, and the amount you have to spend. Whether you are decorating for the first time or you are updating, you have the plans laid out. This will organize your thoughts, keep your mind focused on your goal and on the budget.
Make a List
First, the shower curtain. if this is a full bath. Select one with colors that interest you, and colors to accent.
Curtains – Do you want a modern look with shades or curtains that would soften the lines? Choose colors that will compliment the walls and shower curtain.
Bath towels – compliment shower curtain with big, colorful, fluffy towels. Wait for a Home Sale to save more.
Rug and seat cover – you can go with or without, but if you do want them, choose complementary colors.
Tissue Cover – If you are using the baskets as a theme, stick with baskets all around.
Cup and soap dish – should match.
Basket with folded washcloths and small towels.
Basket to hold magazines – can be set on the floor next to the toilet.
Large basket for laundry – find expensive baskets of all sizes is a Flea Market or discount store.
Inexpensive wall decorations – enlarge your favorite 8×10 pictures of kids, pets, vacations, swimming pool, and other summer shots. Choose fun pictures, and then a frame for under $5.00 a piece.
After you have decided on the basics, it's time to go shopping and see what you can find on sale. This is where you may have to adjust somewhat from your original plans, but shop the sales and you will find items that will work fabulously.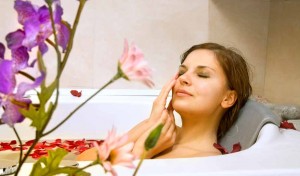 Make a promise to yourself that you won't buy things on a whim; this is the best way to overspend. Take your time to shop wisely, and use the ideas above for more ideas. Your bathroom will look absolutely marvelous if you stick with your plan, and all your friends will want to know how you accomplished it.
Your Westfield home deserves a beautiful bathroom. Call L.E. Isley and Sons Plumbing at (317) 420-4006to take your efforts to the next level with a full remodel!