Lebanon, Indiana Plumbing Services
Our Lebanon Plumber Team Has Over 100 Years of Experience!
Most plumbing issues only get worse the longer you wait to deal with them. When you need reliable service fast, you want to hire a professional who knows how to get the job done without a lot of hassle.
Luckily for you, our Westfield-based plumbers at L.E. Isley & Sons have been offering Indiana quick and efficient plumbing solutions for years. Don't risk causing further damage by trying to fix plumbing problems yourself. Call L.E. Isley & Sons so you can sit back, relax, and enjoy your house like you should!
---
To schedule Lebanon, IN plumbing services now, dial (317) 420-4006.
---
5 Subtle Signs You Need A Plumber
1. A little bit of cold water in your hot shower – You might not think much of a dash of cold water in your hot shower, but it means you need water heater repair. The tube that brings cold water into your water heater is cracked and leaking cold water with outgoing hot water.
2. A water bill that's too high – If you have a small leak, you might not notice it until you go to pay your monthly water bill. To find out if you have a leak, turn off your water and check your water meter. If the dial is still moving, call in our Lebanon plumber because leaks can cause damage over time.
3. More bugs or animals in your yard than normal – If you have a leak in your sewer line, you might not notice it right away. Bugs and animals will flock to your nutrient rich soil and that's a sign you need sewer line repair.
4. Gurgle – If you ever hear this bubbling sound coming from an unused plumbing appliance, get your plumber in Lebanon over pronto. Your sewer line is likely backed up and the air has to come up through the water because the clog is more dense than the water.
5. Your toilet won't stop running – This most often happens because of a chain that's in the way of your flapper's seal. That's the easiest of DIY solutions, but if it's not that then contact our Lebanon plumber because the next fixes are a bit more complex.
Getting Rid of Every Clog, Everywhere
One of the most common plumbing issues almost all homeowners have to face at some point is drain clogs. After years in this business we are able to quickly identity, diagnose, and dispose of a range of drain problems.
Common drain clogs our technicians deal with include:
Hair
Soap
Debris
Toilet paper
Grease
Food particles
Tree roots
Protecting Your Pipes in the Winter
Another issue our Lebanon plumbing experts are frequently called out for is burst pipes. This is common in the winter, as water expands when it freezes, causing pipes to weaken and in some cases rupture. To avoid flooding and other damage, hire our experienced team to help winterize your pipes with proper insulation and prevent them from bursting.
---
Get your pipes ready for the winter! Our friendly Lebanon plumbers are available to answer any questions at (317) 420-4006.
---
Quality Water Heater & Water Softener Work in Lebanon
A water heater is one of the single most important appliances in any home. Without a quality water heater, you can end up shivering through the cold Indiana winter. And without quality water heater service, you won't be able to achieve the idea level of home comfort your family deserves. At L.E. Isley & Sons, our plumbers in Lebanon offer professional water heater service designed to keep you comfortable all year-round.
Call our water heater experts now for:
Electrical problems
Thermostat repair or replacement
Pressure relief valve replacement
Leaking tank repair
Water heater installation
We are also proud to provide water softener service to all residents of Lebanon, IN. Not only can hard water taste worse and feel uncomfortable on your skin, it wears down appliances and equipment overtime. Keep your plumbing system in good shape for years to come, and contact L.E. Isley & Sons for water softener installation service.
When to Replace Faucets & Other Fixtures
Replacing faucets and fixtures in your kitchen and bathrooms is one of the best ways to perform preventative maintenance on your plumbing system. Leaky faucets and fixtures tend to wear down your pipes quicker, and make them more susceptible to damage. When our technicians put in a new faucet, they also check supply lines to ensure your plumbing is in tip-top shape.
Don't waste money on repairs that could've been avoided down the road. Consider installing new faucets and fixtures to improve the value of your home, increase the functionality of your plumbing system, and save money on maintenance in the long-run.
The L.E. Isley & Sons Difference
Whether you're calling for drain cleaning, burst pipe repair, or any other of our total-home plumbing services, our professionals always deliver exceptional craftsmanship and outstanding customer care. It doesn't matter if the problem is big or small, our technicians have the skills and equipment to handle everything from routine maintenance to complete replacements.
A few benefits of hiring our Lebanon plumbers include:
Honest, upfront pricing: At L.E. Isley & Sons, the amount we tell you upfront is the amount you pay, guaranteed. Whether you decide to hire us or not, we believe our word is our bond, and will never raise the rates after a consultation, or spring any hidden fees or surcharges on you at the last minute.
Cleanup service on every job: Our plumbers make it a point to treat your home like it's their own. We promise to keep our work area tidy and to clean up our mess at the end of every job, so your house looks just as beautiful as it did when we arrived.
Free consultations on major projects: We know that committing to plumbing work isn't easy. That's why we offer free consultations on major projects, so you feel completely confident about our services before you even spend a cent.
---
For drain clogs, burst pipes, water heater service, fixture replacement and more, there's only one plumber in Lebanon, IN you need to know. Call (317) 420-4006 to schedule service with L.E. Isley & Sons, or send us a message online.
---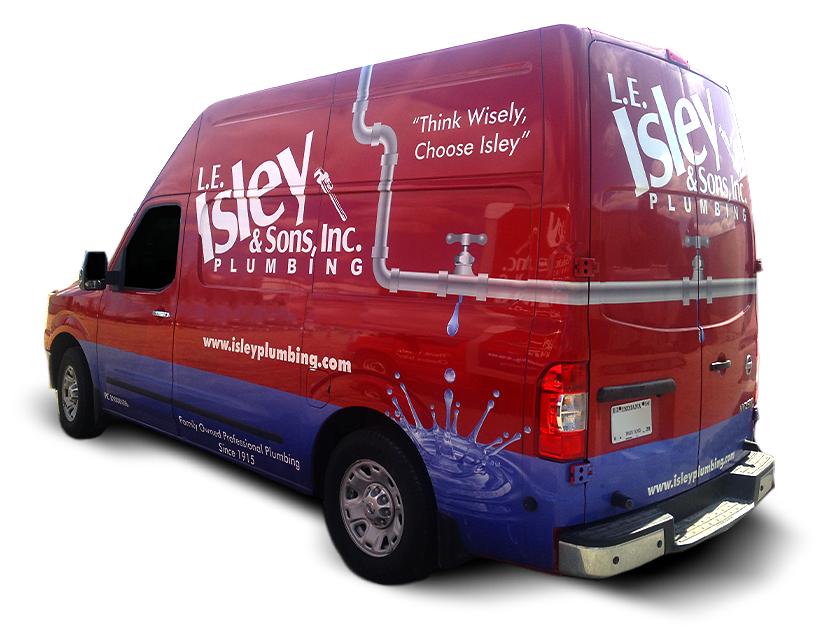 We Love Our Customers!
See What They Have to Say About Us
Plumbers You Can Trust
Our customers receive the personal attention they deserve.
Family Owned & Operated
Four generations of good old-fashioned customer service.
Flat Rate Plumbing Prices
Prices provided before service begins. No hassle, no surprises.
Guaranteed Solutions
We've been solving plumbing problems for over a century.